2020 Hot Sale Multi-Function Disinfection Box With Wireless Charger Charging Your Mobile Phone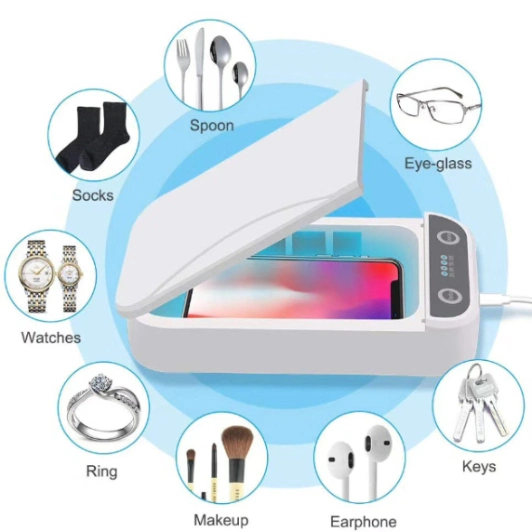 Detail Spec:
| | |
| --- | --- |
| Item | Details |
| Product Name | Multifunctional UVC Sterilizer Box With Wireless Charger |
| Function | Voice prompt/Aromatherapy/UVC Light/Charging |
| Material | ABS |
| Color | White |
| Largest Capacity | 6 inches phone |
| Input Voltage | DC 5V |
| Incoming Current | 2A |
| Disinfection Power | 2W |
| Aromatherapy Power | 1W |
| Max Power | 9W |
| Disinfection Time | 5 minutes |
Excellent Feature:
1. With the help of rechareable lithium battery,it can be used up to 50 times by charging 300 seconds only,easy to carry and use, anytime along with you.
2. the product uses quartz ultraviolets ozone lamp excusively.
The Bactericidal rate is up to 99.9% by using high efficiency sterilization wave band UV-C 253.7
3. With the built inside automatic safety system,it will shut down automatically in case of any open the box cover by mistake,avoiding UV rays shine eyes directly.
4. The working life of imported high grade quartz ultraviolet ozone tube is more than 10000 hours.
Product Photo: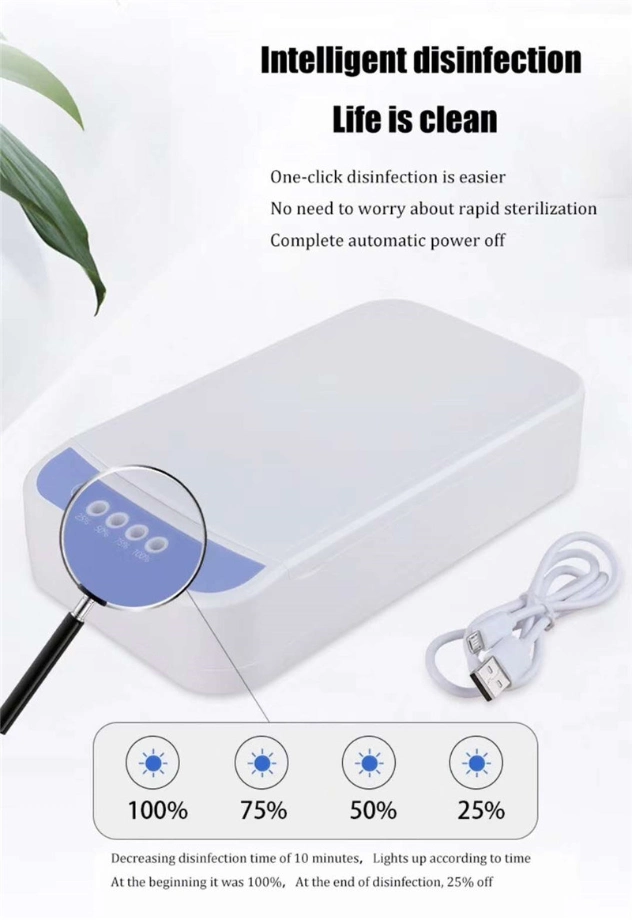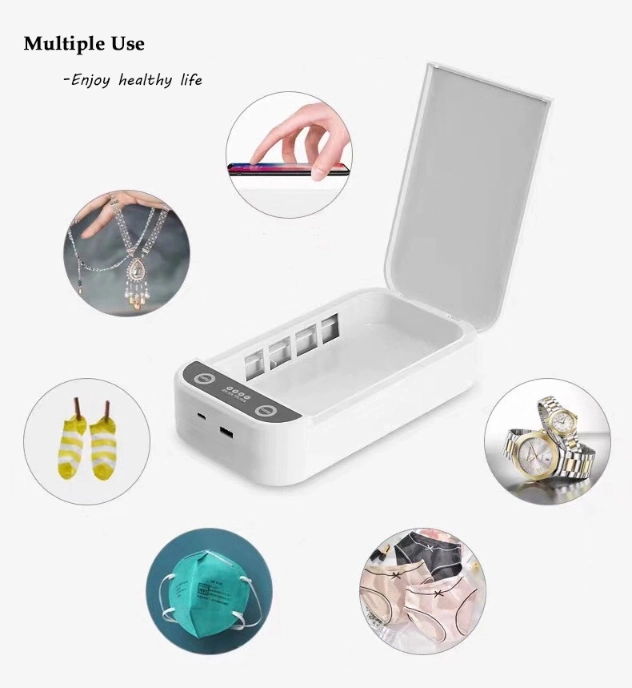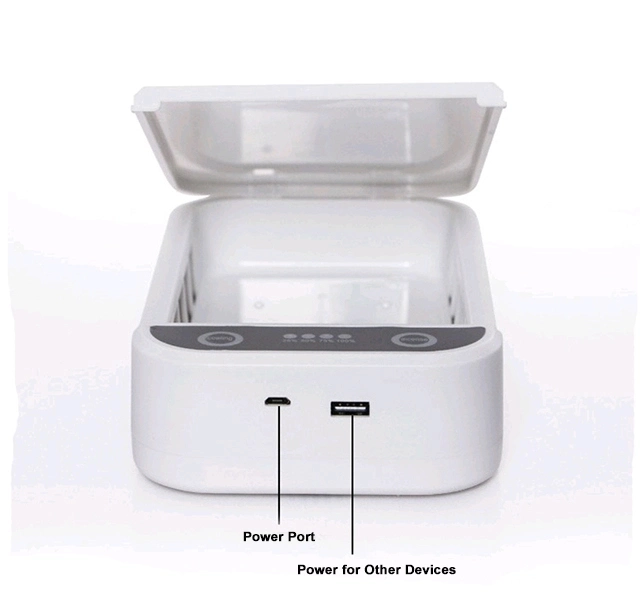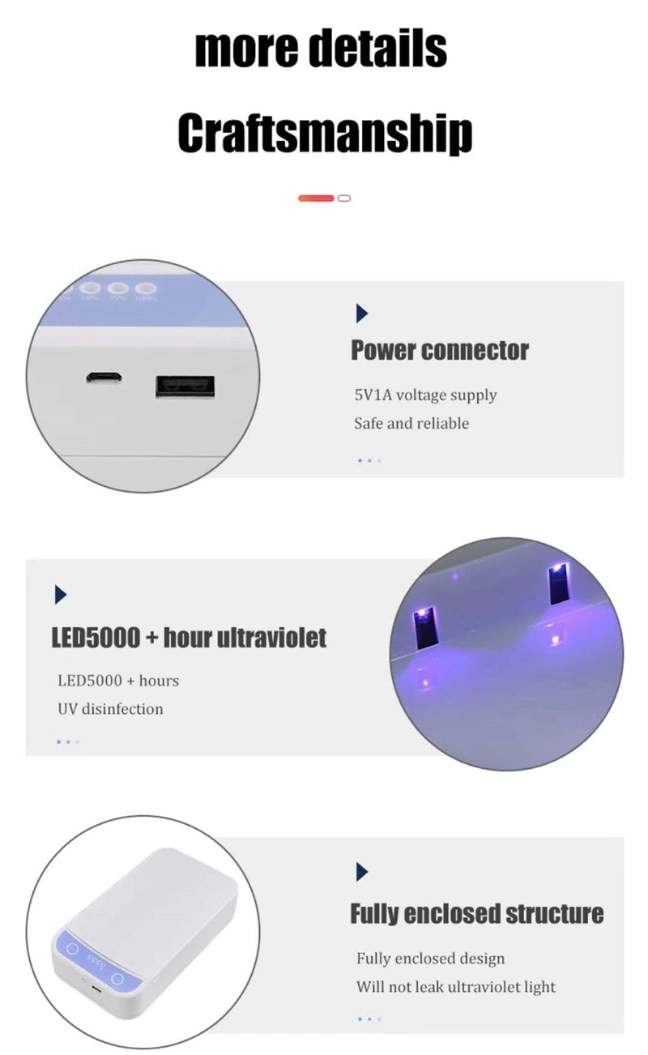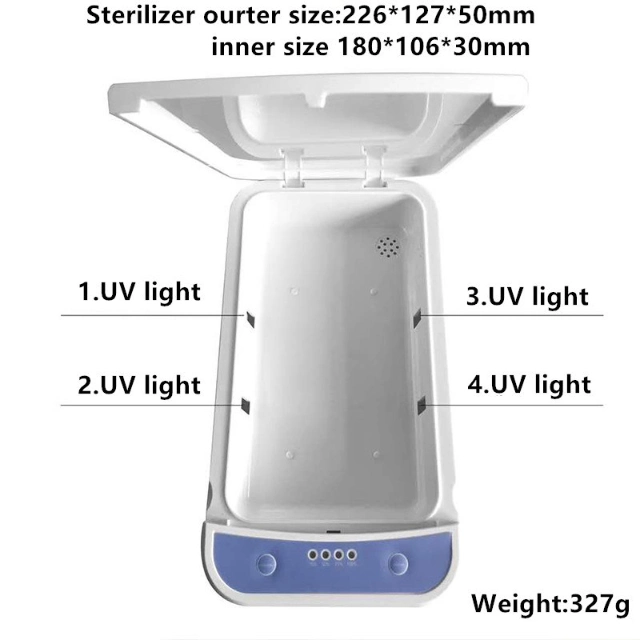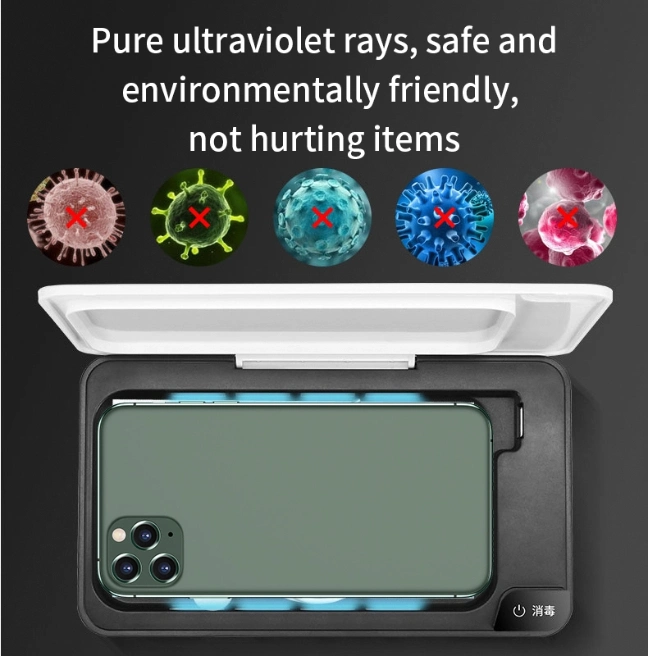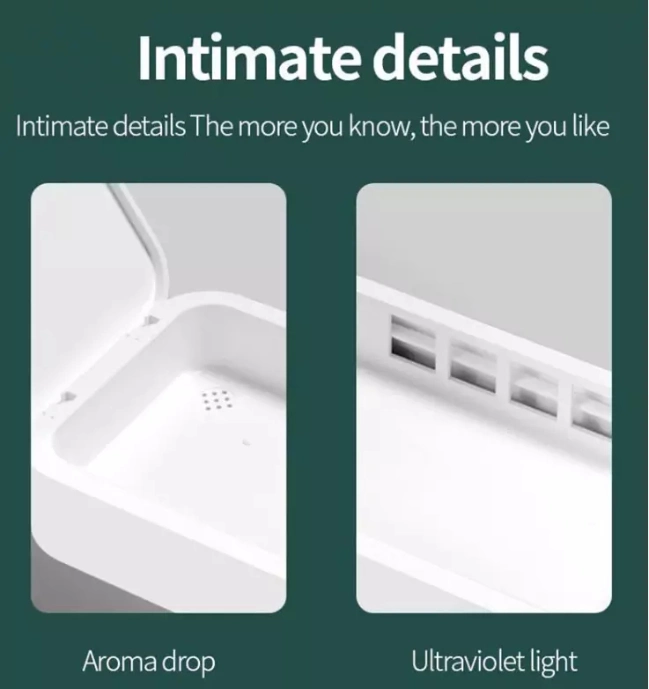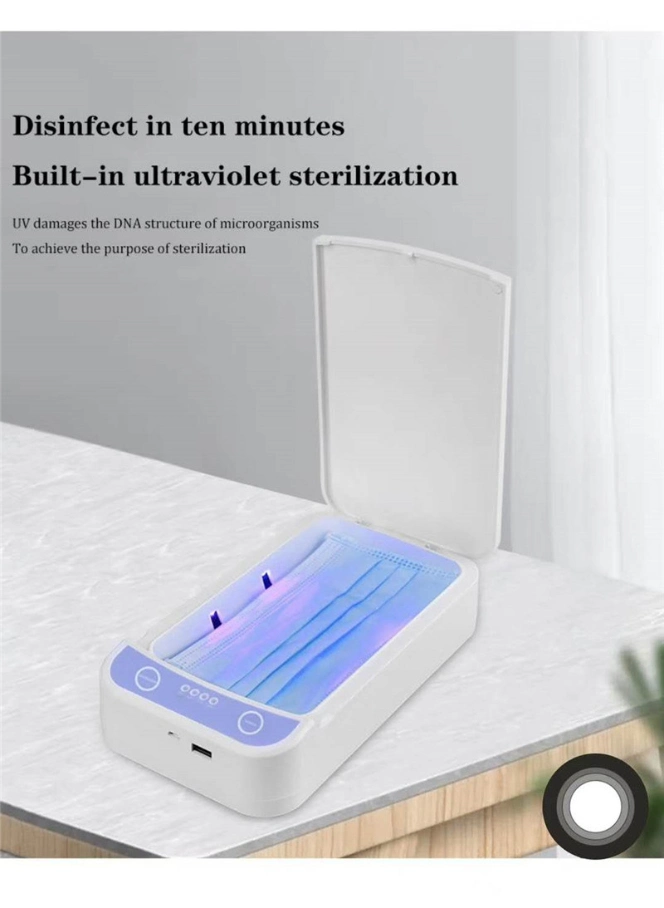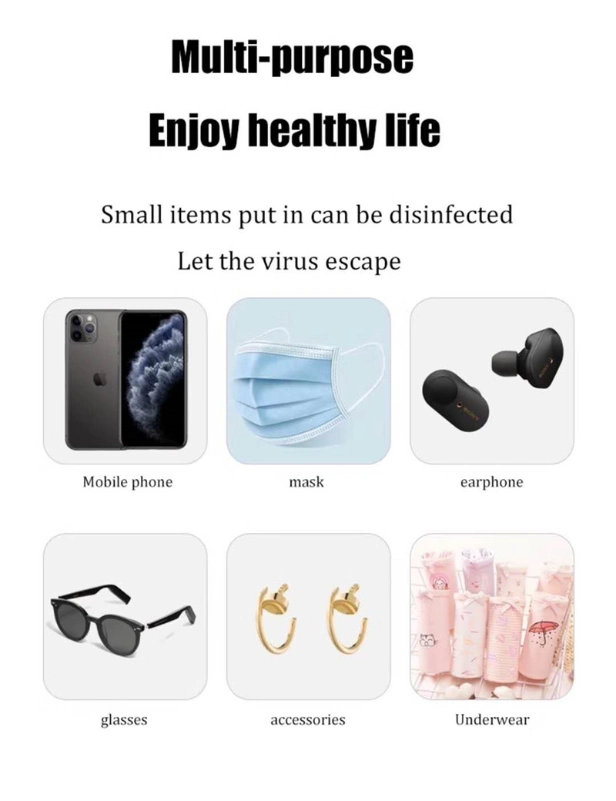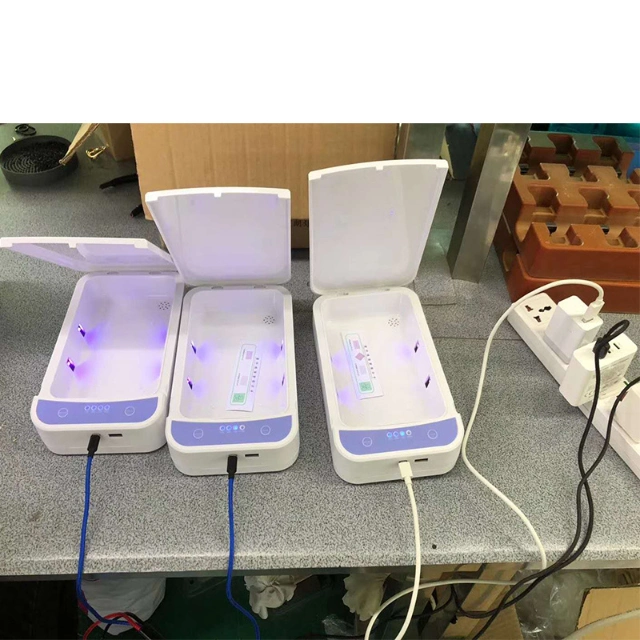 Production Line: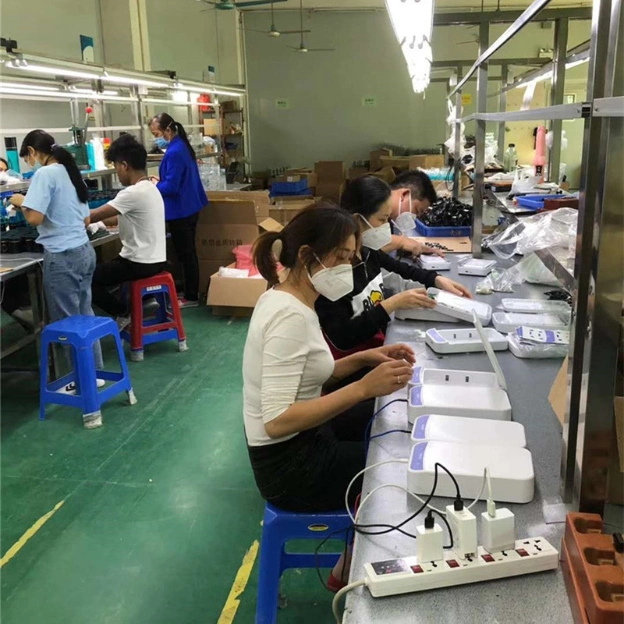 FAQ
1.How long does it take to disinfect an object? What distance?
A:Sterilization time is between 10-30 seconds, Scanning back and forth from a distance of 2-3 centimeters from the object.

2. How to use this sanitizer wand to disinfect germs? Will it be effective?
A:The most point material is UVCLED lamp.
Deep UV LED disinfection has a selected band (270-285nm), with relatively strong sterilization power, with a sterilization rate of 99.9%. At present, no UV-resistant bacteria have been found on the earth. Each product has a built-in LED disinfection chip, which emits ultra-high-energy deep ultraviolet rays, penetrates cell membranes and nuclei of organisms, directly destroys the molecular structure of microbial cell DNA, kills bacteria, and achieves efficient disinfection.

3. What certifications do you have for UVC sterilizer Box?
A:With SGS in English Verision Report, CE, FCC, RoHS Certifications.

4. What is battery life?
A:The life of the lamp beads is more than 10000 hours, and the battery has 500 charging cycles.

5. Does it have English Package?
A:Yes, nice and solid pacakge is our advantage. with Ultraviolet sterilamp, USB charging cable, storage bag, Wrist strap, English version manual.

24 Hours Timely and Professional Service.